Right, here we go. What a massive weekend I have just had, what with two major car events planned for the same weekend, but fortunately they were a mere 2 hour drive apart from each other.
For me it all started on Thursday 26th as I very sadly drove my stupid Mitsubishi down to the town of Whangamata (pron Fong a ma tar). Now, I wasn't sad because of anything actually sad, but I was hoping to have had the VW legal so that I could take it down to the Beach Hop, but my goal was quashed and it just wasn't worth the risk to drive it so far and get fines or have it taken off me. So for once in my life, sensibility prevailed.
I rocked into the township to be greeted by incredible weather, barely a cloud in the sky and there were hot rods, muscle cars and people all over the place. For many, the event had been going for several days already, so the place was pretty alive from the get go for me. Being in a yucky jap import, I tried to avoid being seen driving through the main areas of town, haha.
I found my abode and discovered the others I was staying with hadn't arrived into town yet, so I drove around to Rachael's from Rita Sue Clothing, and we jumped in her Buick and headed into the main street to go check out the cars and have a beer. Now she was a very well behaved girl and only had two drinks knowing full well she would need to drive her car home a few hours later.
Now, me on the other hand, I wasn't driving, so it became I little bit too easy to have a few drinks too many as I caught up with old friends and walked around checking out the cars (and maybe a girl or two here and there). We walked on down to the Whangamata Club to go see Recliner Rockers perform and as always, I was completely blown away with Al's guitar prowess, very inspiring. Eventually the music came to an end and it was time to go home, but it wasn't the end of the party I tell you.
It was about 3.30am when I finally fell into bed, well, not a bed so much as a two-seater couch that I curled up on under my duvet. It wasn't until the next morning when I awoke that I discovered it was in fact a fold out bed couch thingy and that I could have had a much more comfortable sleep. Oh well.
Friday is always my personal favorite day at BH, being the cruise out to Onemana Beach. Rachael was kind enough to be my chauffer and allowed me to throw my guitar and amp in her Buick so that I didn't have to suffer the embarrassment of driving the Mitsi through the throngs of people who were all out to see cool cars. We found the stage area (and by that I mean the piece of grass under the trees up the very back of the field) and parked up.
Now, for me it was an awesome buzz knowing that in a couple of hours I would be playing with my band mates in The Voodoo Kreepers again, which we hadn't done for almost a year now. So I was really excited about playing again and just rocking out and having some laughs.
The Plymouth Fury's were setting up their gear and were so kind in allowing us to not only use their PA system, but to also actually cut into their playing time to allow us the opportunity to play. I speak for all three members of TVK when I say a sincere thank you to TPF's for giving us the opportunity.
Now as it turns out, just as I was setting up my gear I cut my finger on a guitar string, and it ruled me out of playing the gig. Fortunately for me, one of our biggest fans happened to be at BH and he knows how to play and sing all of our tunes (even the one's he hadn't heard yet). Freddy Fargon is his name, and he quite the ladies man, and its rather intimidating for me handing over my guitar to such a guy, knowing full well it could spell the end of my time in the band if Geoff and Jules got wind that he was a billion times better at playing guitar than me. Heck, he's better at everything than me.
The band took to the grass, and I sat up the back of the crowd nursing my life threatening cut finger as TVK's simply rocked out harder than the abs of Mucho Man Randy Savage. Freddy was on fire, his hips thrust much to the ladies delight, and he did lunges that showed off his muscular thighs, how on earth would I ever compete with this guy in the future?
Well, in what seemed like seconds, but was in fact at least an hour, the gig was over. Freddy gave me back my guitar and I swear to God, I heard it cry as he let go of it. Not even my guitar wants to be touched by me anymore. I can only but hope that the sweat from Freddy's hands has somehow magically transferred onto my guitar and will somehow magically be absorbed by my own hands, and that I will possess just a fraction of his talent.
Well, with that done, it was back to town to check out the always impressive, Friday Night Cruise. The streets are blocked off, and only registered entrant cars are allowed upon what many would consider hollow ground, if even just for a few hours. My Red Shift duties had kicked in, and Cal and I hatched up plans for some funny little snippets in the show, which of course you will see when it airs in a Mega Beach Hop special with a full episode dedicated to the event. Be watching Prime TV on Saturday's at 5pm.
Once completed, I took off to see Aussie band The Flying Saucers, and to be honest, I was very impressed. I can be a bit cynical about bands at times, and im a very honest person who tends to speak my mind quite freely if I am disappointed, but there would be no such thing for tonight. They rocked the Lion Red tent and had people up dancing in no time. Good show guys, I look forward to coming see you play when I get to Melbourne.
After watching them for an hour I took a lonely wander around the streets and was hit up by a mate who encouraged me to enter into Hop Idol. Basically it's a singing competition where contestants chose from a list of 50's and 60's songs and give it a shot to get into the top 8, who then perform on Saturday at the Kicker Reserve to battle it out for the top prize of $500 cash. I was very reluctant as oddly, I hate karaoke styled singing, but my mates wouldn't have a bar of it, and pushed me onstage. I chose to sing Suspicious Minds by Elvis, and well, it turns out I got into the Top 8 and was told to report to the side of stage at 3pm the following day. I will speak more of this later.
Friday was a slightly earlier night than Saturday, but only by about 30 minutes. Geeez. But as I was in no rush to get into town for the big parade, I decided to enjoy resting until around 11am before setting off into town to see all the cars parked up along the streets. Now, the silliest thing about this whole trip was that I was so busy with the band, The Red Shift and just generally catching up with people that I didn't take any photos of cars at all. I only took 2 pictures of an awesome early 1900's Indian Motorcycle for a friend who couldn't make it down for the BH.
Cal and Stu were running round like mad men filming as much as they could, and I ran into them and we filmed a couple of 'piece to cam' segments. That's tech talk for 'the bits were im in front of the camera'. With my input completed by around 2.30pm, I jumped in Cal's Rambler with him and he drove us down to the Kicker Reserve so I could report in for the Hop Idol finals. I registered and chose the same song, and watched, as very lovely ladies got ready for the Rita Sue Fashion Show was about to hit the catwalk. Mmmmm, ladies are lovely.
Well, with the fashion show done, the Hop Idol got underway and just as my name was called out I walked the stairs on the side of stage only to trip and hurt my knee. I knew there was no way I could go out there and sing with the amount of pain pulsing through my body, so I had no choice but to pull out. Just as I was about to pull out, up steps Freddy Fargon in my place, and man, he simply took that crowd of 20,000 people (yes, there were actually 20,000 people, im not making that bit up) and turned them playdoh in his hands, and then he made little farm animals out of them and ran over them with his Tonka Truck.
Once again he gyrated, thrust, swooned and the ladies went wild. Two ladies even threw their bras onto the stage, CRIKEY. He belted out that tune better than Elvis himself, and as it so happened, Elvis was at the event and when he saw Freddy Fargon stealing his thunder, he stormed up onstage and ordered Freddy to stop singing and get off stage. Man, that Elvis is one jealous cat I tell you. But Freddy got the last laugh by winning the Hop Idol competition and taking away the $500 cash booty like the pirate he is. Yyyeeeaaarrrrggggghhhhh
To see Freddy's show stealing performance, click below
With that done, Freddy walked off stage into the throng of women awaiting him side of stage, and he was seen disappearing into the changing tent with no less than 6 women. He emerged about 20 minutes later with a grin from ear to ear only to have some shiela throw a piece of paper with the number 20 on it. When he asked what it was about, it turns out that they had entered him into the beauty pageant, which of course he strutted his stuff with all the sexiness and poise of an Rhino in heat. And when he lost, he stormed the stage and threw a hissy that would make the girls on Rock Of Love look like angels. Sorry to hear of your loss Freddy, but you can't win them all mate.
Anyhow, with that done it was time for me to make tracks back to Auckland and try getting some sleep to be ready for the Scroungers Hot Rod Blowout the following day. A great weekend was a bout to get a heck load sweeter.
Sorry there are no pictures of cars, but I have managed to score some of Freddy doing his thing with The Voodoo Kreepers. Thanks again for covering me Freddy, you sex freak.
Freddy Fargon takes to the grass with The Voodoo Kreepers - who can resist those pearly whites?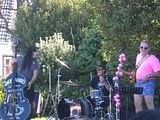 even Chip Foose from Rides dropped by get a photo opportunity with the infamour Freddy Fargon.