Day Three
27-02-2009
I awoke relatively early this morning, and in fact, I barely slept at all in the first place. Not that I wasn't comfortable, but I just had one of those 'my brain wont stop thinking' nights, but I relished in the rare occasion of my brain even thinking at all, so it's all good. Being from Auckland it was blissful to be able to walk out the door and into an open field and breathe in fresh air first thing in the morning. And to be greeted by the mighty Mt Taranaki right at the doorstep was breath taking. I love this mountain; after all, it was a part of my daily life as I lived in New Plymouth for two years in my high school years.
I made tracks towards Hawera as the AmeriCARna cruise was destined to arrive and take over the streets around 2.30pm that afternoon. It was good to just chill out and enjoy a slow day and wash my wagon to get it ready for the arrival of its new owner due tomorrow to pick it up. I finally headed into town to catch up with Cal and Stu and start preparing for what footage would be filmed that day. The plan was to do what we call 'piece to camera' footage, which is basically the footage of me on camera talking about the event or just being an idiot really. I always enjoy this part of the show, as we don't have scripts to follow and just make it up as we go, often to the amusement of an impromptu audience happy to laugh at my obvious screw-ups.
It didn't take too long to get the footage we needed today, which is always a relief for Cal as the pressure is always on to have enough footage to be able to sift through to make sure our viewers get to see the best of event. But in this case, the poor bugger has so much footage to wade through that I fear for his sanity, haha. But if anyone can do it, he's the man to get the job done.
With cars lining the main street of Hawera, the entire community was really getting in behind AmeriCARna. Shop windows were filled with American flags and so forth, kids were covered in red, white and blue, whether it was clothes, flags or face paint. Although I didn't physically see the band, we could hear them all round the street, and they had a great range of songs to keep people entertained.
I didn't get to take many pictures today, as you will be able to see. Frankly though, by the third day of seeing mostly the same cars, although I must admit, with events this size, even after 3 or 4 days you still seem to be able to see a car here or there that you haven't noticed before. So don't take my words as being a negative.
Once we completed our filming, I made tracks back to my Hawera base and chilled out for an hour or so until Alison was ready for us to head to New Plymouth for the night cruise. We decided to take her car and leave my wagon safely locked up in Hawera. Upon arrival in downtown New Plymouth we parked up and walked down Devon St, which was the focal point of the official 'Night Cruise'. It's always quite mesmerizing watching old cars cruise a downtown area at night. Reflections of shop lights bouncing off the curves of 50's cruisers, the roar of open exhaust headers from hot rods, the sound of air bags purging as some cars slam to the ground and seeing cars cruising instead of just being parked up, makes for a far more enjoyable aspect of an event such as this.
Knowing well that Alison really loves old cars but not having really been in old cars apart from my wagon, I caught up with some very close, fellow Maverick friends who are affectionately known to me as 'Mum and Dad', Ray and Colleen Inwood. They have a few old cars, but tonight they were cruising in Mum's 1959 Cadillac Coupe De Ville. It didn't take much to convince Dad that he should take us for a cruise around the loop so that Alison could get her first taste of what it's like to be in a true iconic 50's car.
With a good hour or so of watching the rolling display we decided that maybe a drink was in order and with a group of mates from the NZ Mopar Forum, we stepped into a bar known as The Grumpy Mole (I wondered for a second if this bar was named after one of my exes, haha). It's a pretty cool bar, but Alison and I only stayed for one drink and chose to catch up with my good mate Fish and jump in his '55 Caddy De Ville (yes, it was a great night for cruising in Cadillac's) and joined him and his wife Kelly back at their camp for a few quiet drinks and some good laughs.
Around 130am, it was decided to head for home via McDonalds, but it turned out about 30% of New Plymouth's population had decided on doing the exact same thing. So we ditched the cue, and hit the local service station for a mystery pack, aka meat pie. Lord knows what you will get when you bite into one of these at almost two in the morning, but it was actually bloody good. As we drove, the rain started, and it got pretty damn heavy too. The forecast had warned us it was coming, but after crossing fingers, praying to Jesus, making sacrifices to Buddha and Vishnu, we were not heard, and the rain settled in for a pretty solid 12 hours non stop. As a result, I decided I would just stay in Hawera for the following day, and that I had personally, finished my trip to AmeriCARna.
the val sits in the morning dew awaiting a cruise back to Hawera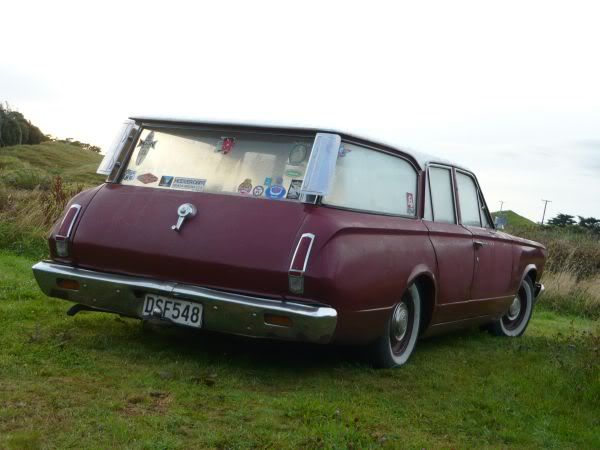 Mt Taranaki from my fellow Maverick John's back door. who could argue with this?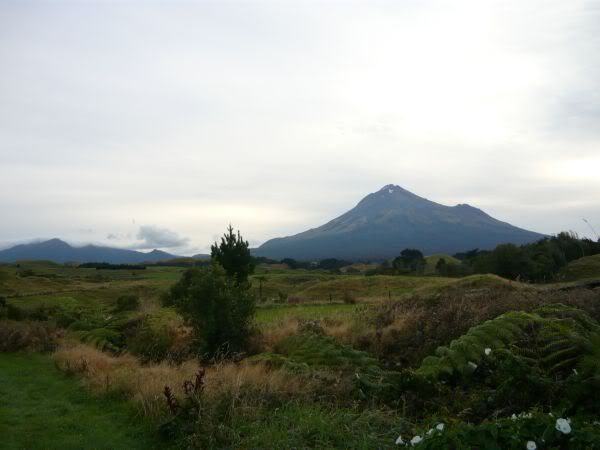 i went to Alison's daughter Jasmine's school to see her perform in a dance (which i missed due to it running late), but check out this awesome shark they have hanging in the school hall that the students made. its freakin rad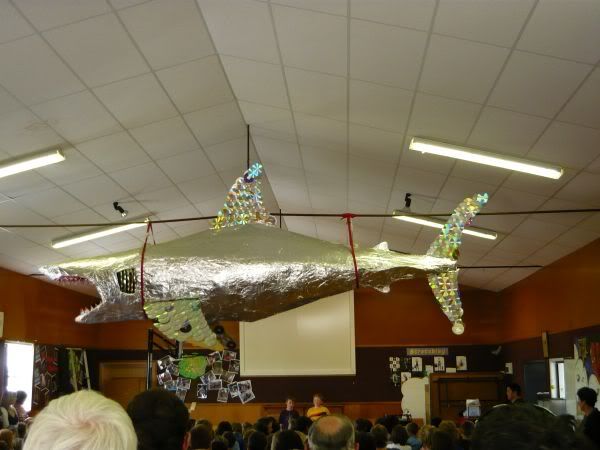 this sign clearly points to where Dawsons Creek must come to an end
and only a few pictures of cars as i was mostly focused on red shift duties. camera wasnt set right for night time cruises, so will practice that for next time.