Welcome to The Red Shift Diaries. You may ask yourself, what is this 'Red Shift Diaries'? Well, in a nutshell its clearly a blog (yep, I'm finally doing what everyone else was doing 6 years ago, I'm that far behind) where I will share with whoever wishes to read, my journeys, adventures and boring bits of life, like, 'Today, I scratched my bum'. But first, allow me to break a few things down for you so you get a better picture of whom I am and what I do and what you're likely to read about on here.
Who am I?
My name is Ricki Wood. I am Australian by birth but for the majority of my life, have lived in New Zealand. For the last 13 years of my life, I have been blessed in that I make a living as a full time musician. I have had normal day jobs along the way, but I have always focused on entertaining as being my main job, although I don't look at it as a job at all. I love it, I breathe it, and I recognize it as an honor to be able to share music with others around me and actually make money from it.
For the most part, I perform in two bars in Auckland's Viaduct in the downtown part of the city. Danny Doolans and O'hagans are the bars I primarily perform in, and it's usually hard out party time all the time. Hence why im taking a big step to the left and am off to have new adventures, but more on that soon.
Apart from singing in pubs and doing private functions (weddings, parties etc) I also had a band called The Voodoo Kreepers. We played a style known essentially as rockabilly, but we stepped widely out of that genre to encompass many other territories. Now, the band still essentially exists, but gigs are few and far between, but you can still check out some of our tunes on our myspace page at
www.myspace.com/thevoodookreepers
Music aside, I have four children (1 son and 3 daughters) who absolutely rock my world. They bring me so many laughs with all their quirks and mannerisms. I highly recommend having some if you don't already. They're much more entertaining than TV. In typical 'rockstar' fashion, the four kids were evenly divided between two women, whom I am no longer with. Both are absolutely awesome women whom I still hold with the highest regard to this day.
The Red Shift Diaries?
So how does The Red Shift name come into all of this? Well, apart from music and children as hobbies (hehehe) I present / narrate a TV show here in NZ called The Red Shift. It is a car show, which focuses primarily on hot rods, muscle cars and related events. We are just heading into our 3rd season now, which goes to air on Prime TV on Saturday 21st of February at 5pm. If you're a kiwi, and have Prime TV, watch it, you wont regret it……well, maybe apart from having to see my ugly mug here and there. You can also check out more on our show at
www.theredshift.co.nz
So why the diary / blog?
Well, as part of my journey these past few years, I have found myself with a yearning to just go and do something a little different for a while. So as of April 20th, im throwing what very few possessions I will have (I'm selling everything I own at the moment) and will be shooting off on a 10 to 12 day road trip around New Zealand, which will see me finish in Christchurch in the South Island. From there I will be leaving for Melbourne, Australia around May 6th. My trip to Australia will be a mixture of travel, car shows, catching up with family and friends and work.
After a couple of weeks in the Melbourne area with family, I will endeavor to journey up the east coast of Australia taking my time to take in the sights etc. the plan is to make it to as many car shows as possible and take in what's going on in the aussie hot rod scene. Once the travel section of my journey is done, the plan is to join my sister Sue for roughly three months on Mt Hotham, Victoria for the ski season. Sue manages a ski lodge on Hotham, and has invited me to be a bit of all-rounder guy on the mountain. So I could go from being a ski lift operator, barman, bouncer (damn straight I will deal to ya, ya bloody drunken yobbos, LOL) or maybe even share managing the lodge.
Once completed I will make my journey back to NZ in early October to be back to gigging and being ready for the summer season of The Red Shift (fingers crossed that Cal 'producer', wants me back). So whilst I will be traveling, I decided to keep a running diary of what's going on with my adventures. I will post blogs and pics of car shows, friends and family, the touristy bits etc, all so that anyone interested can follow my journey with me. I will attempt to report in at least every few days.
So what now?
Well, as of right now, I still have a couple of months to kill before I depart. During this time I will be posting some pictures and reports on some cars shows I have been to and will go to, and any other little pieces of interest as I prepare to basically live out of a suitcase for five months. I hope you will all enjoy having a read and feel free to post messages and updates on life back home or anywhere you may be from.
Email – hillbillylover@gmail.com
this is me in the studio recording voice overs for The Red Shift. as you can clearly see, its very demanding......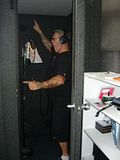 this is Big Jim from DSM Studios. He's an awesome chap, and he puts up with me being a dick all the time
and this is my car, its a 1967 Valiant Safari Station Wagon. its for sale for $6500 ono. i NEED to sell it to make my journey to aussie much more viable, so if you or anyone you know wants it, BUY IT. thanks.