Right, well im catching up on last few days here, and trying to remember everything that has happened, so bare with me a minute.
I was lucky enough to have sorted out some time with my girls on Saturday morning before I had to shoot off to Tauranga for a party involving mostly fellow Mavericks (a hot rod related club of people made up of good bastards, and me, haha). So I picked up Ash and Jess at 9am and we headed out to my good friend Angela's place to see her and be there when a couple of guys came to look at the 1939 Ford she is selling.
Once that was completed, we jumped in the car and did the classic 'Dad takes us to McDonalds' lunch trick. Good old solo dad trick from way back. Hehe. Then we popped round to say see-ya-later to Rachael of ritasue clothing. Then dropped the girls off before taking my trusty mitsi to its resting place whilst im away, at my good friends the Fishers.
With that done, it was off to Tauranga for the night, where I knew full well I wouldn't get any sleep as I needed to be at the airport on Sunday morning by 530am. Yay for that. Sheesh. Now the Mavericks were mainly gathering in recognition of one of our members turning 21, and only 2 mavericks even knew I was coming, as I wanted it to be a surprise. Well, it seems it was, and it was great to see so many Mavericks in one place (not many people would understand why, but it just was).
Then come 130am, and it was time for Angela and I to head back towards Auckland. I was driving, so it was a nice slow paced drive back as I felt no need to rush. I got to the airport, Ange threw me out and I booked in. all smooth sailing there. Although I was over the weight for luggage, the lady was nice to me and didn't charge me extra. Yay.
On the plane and away we go. All was going smoothly when all of a sudden.
'This is your captain speaking, is there a medical doctor onboard?'. Nope.
A little later.
'This is your captain speaking again, is there anyone on board who suffers diabietes that may have some insulin onboard with them?'. nope.
A little later again.
'This is your captain speaking, we are now changing course for Sydney as we have a medical emergency on our hands, and its closer and we need to get to ground asap and it's closer than Melbourne'.
No worries, we diverted and knew we would get to Melbourne approx 2 hours late. The medics took off with the person on the plane and I had just enough power on my mobile to text my brother and tell him to delay meeting me, no problem. Landed, got to the luggage part and scored my suitcase, but alas, no guitar. Hmmmmm. I asked around and got pointed to the oversize luggage collection area. Alas, still no guitar, however, there was a large group of people waiting there and it turned out the conveyor belt was broken. Now of course you would think they would just put everything on a trolley and bring it round??? No, that made sense, so instead they just waited till it got fixed. Which meant, we waited till it got fixed too. Oh well, at least I got my guitar and I headed out to be greeted by my brother and my two absolutely too beyond cute neicec Emma-Jane and Abbey-Lee.
I was in dire need of a shower as I had been wearing the same clothes since Saturday morning, and I was rather………pungent. I feel so sorry for the two girls who had to sit by my side on the plane. They tolerated me somehow. Eegads. Shower and fresh clothes and my brother John and I were off to a rockabilly show in Ferntree Gully, which as luck would have it, is were he lives, so it was a 2minute drive down the road.
Had a great time there, a couple of beers, watched a few bands, and missed out on seeing about 4 others that played after we left. Its weird here in aus, rock n roll people are strange. If songs had a certain tempo, they danced, but wouldn't clap at the end of the song they would just stand there and look at their watches until the next song started. Then if the song was too fast or slow, they would just walk off and sit down and complain about it. Its almost like you could play 'rock around the clock' a hundred times over and they would be in heaven. Weirdos.
With that done, we grabbed a bite and headed east to my hometown of Maffra where we stayed at my sister Sue's place. When I got to bed it was around 11pm (1am nz time). So I had 4 hours sleep on Friday night, so that was the only sleep I got from Friday morning, till last night. I was beyond tired, and I slept like a dream. Apparently, I snored like a chainsaw and kept the whole house awake, but I don't care, I needed the sleep.
And now here I am writing you, its warm, its clear blue skies, and its great to be here. I do however miss you all very much. It's going to be weird to not be able to just pop up the road to see many of you. But im sure you're all going to love the break. Hahaha.
See you in my next report.
Ricki
Ps – I forgot to take my camera to the rockabilly show, dumb. Was some kool cars in the carpark. Next time.
here i stand with a box of fuel in hand. good old JIM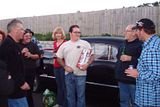 having a big ole hug with fellow maverickian Jerry
group shot. this is one hell of a bunch of people to party with