ok, so i finally got them loaded up on photobucket. here we go.
this is the car i stole from my mum. its a classic aussie icon of a driver. solid as a rock, and drinks fuel like a samoan family drinks taro.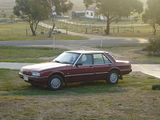 driving to melbourne in thre fog, and this was around 1030am. insane.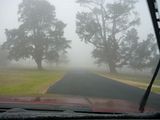 the billykart that my brother has made for his 2 daughters. he made it in one day and a night worth of work. freakin awesome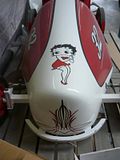 and here we go. hot rod building time. this is how i found my brother John when i arrived at the shed at lunchtime thursday. he is giving his usual friendly greeting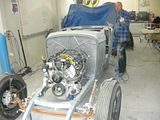 we had a LOT of work to do within 2 days in order to have the roadster ready for primer on the saturday. john focused on the body, i did all the little jobs that needed doing like interior trim panels, floor panels, brackets etc.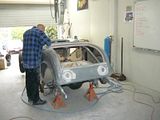 floor template made from cardboard
then when complete, i cut them out of plywood and here ya go. too easy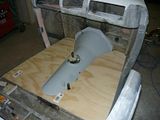 body off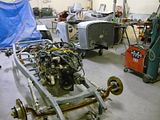 then i dropped out thre rear end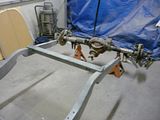 front end on
front end off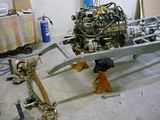 then pulled apart the front end so i could polish up the axle ready for paint.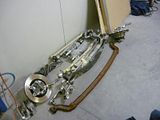 i took 5 and grabbed a pic of the day outside and the view over the top of the shed. not bad aye.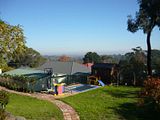 then we flipped the body up on its end so john could get the underneath sorted. this rod will be as mint underneath as it is on top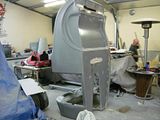 on the dolly trolley and all body complete and ready to go on trailer and down to the local smash repairs for primer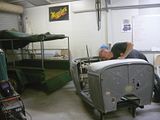 and the engine put to the side to await the return of the chassis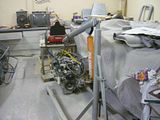 with all that done, it was decided to grab some brews and head round to good friends Dave and Mels to sit in their spa and watch movies. the massive TV is in front of the spa, so its an awesome way to unwind.
numbnuts (johnny) was first in
then dave and i joined. i call this picture 'the birth'. now you can see why chicks go nuts for me huh? LOL
then afterwards, i snuck into Daves shed and snapped some pics of his cars and his current project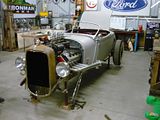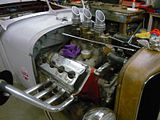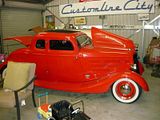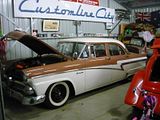 then on my way home from melbourne to my hometown, i found this.one massive farkin bird. i dropped a piece of bread and got into a fist fight with this bastard for about 15 minutes until i judo chopped it in the right eye and it fell over and died. at least the locals can rest easy at night now after almost 3 decades of being trapped under its evil rule. long live me, there new hero.